The Creative High conveys the emotional depth and search for meaning that accompanies the struggle to recover from addiction. The documentary showcases how art can be a guidepost, while delving into the artist's challenge to maintain equilibrium before and after recovery. Seeking an alternative "high" through creativity, the film offers a portal into the aliveness and spiritual connection often sought through drugs and alcohol. Bringing the viewer into the worlds of hip-hop, drag performance, punk music, and featuring artists who create dance, theater, and visual art, The Creative High projects a message of hope in an ailing world.
Drug and alcohol addiction is a widespread and devastating issue in every community. During the COVID pandemic addiction rates increased by 15 - 17% in the United States.
One in seven people face a substance use disorder in their lifetime, according to the U.S. Surgeon General. There is a revolution in recovery advocacy at this time and strong interest in films that offer resources for people with substance use disorders that highlight the gifts of recovery.
Research on the benefits of creativity is widely documented suggesting several outcomes for addiction recovery such as decreasing denial, reducing opposition to treatment, providing an outlet for communication, and lessening shame. Viewing, discussing, and interpreting art can help in group discussions, and can motivate people with addictions to change, moving them away from reflection into a state of action.
The nine stories in The Creative High reveal the transformative quality of the creative process, empowering us to wake up to our true selves. The documentary offers insight, resources, and solutions for artists, their families, recovery communities and those in the behavioral health field around the globe.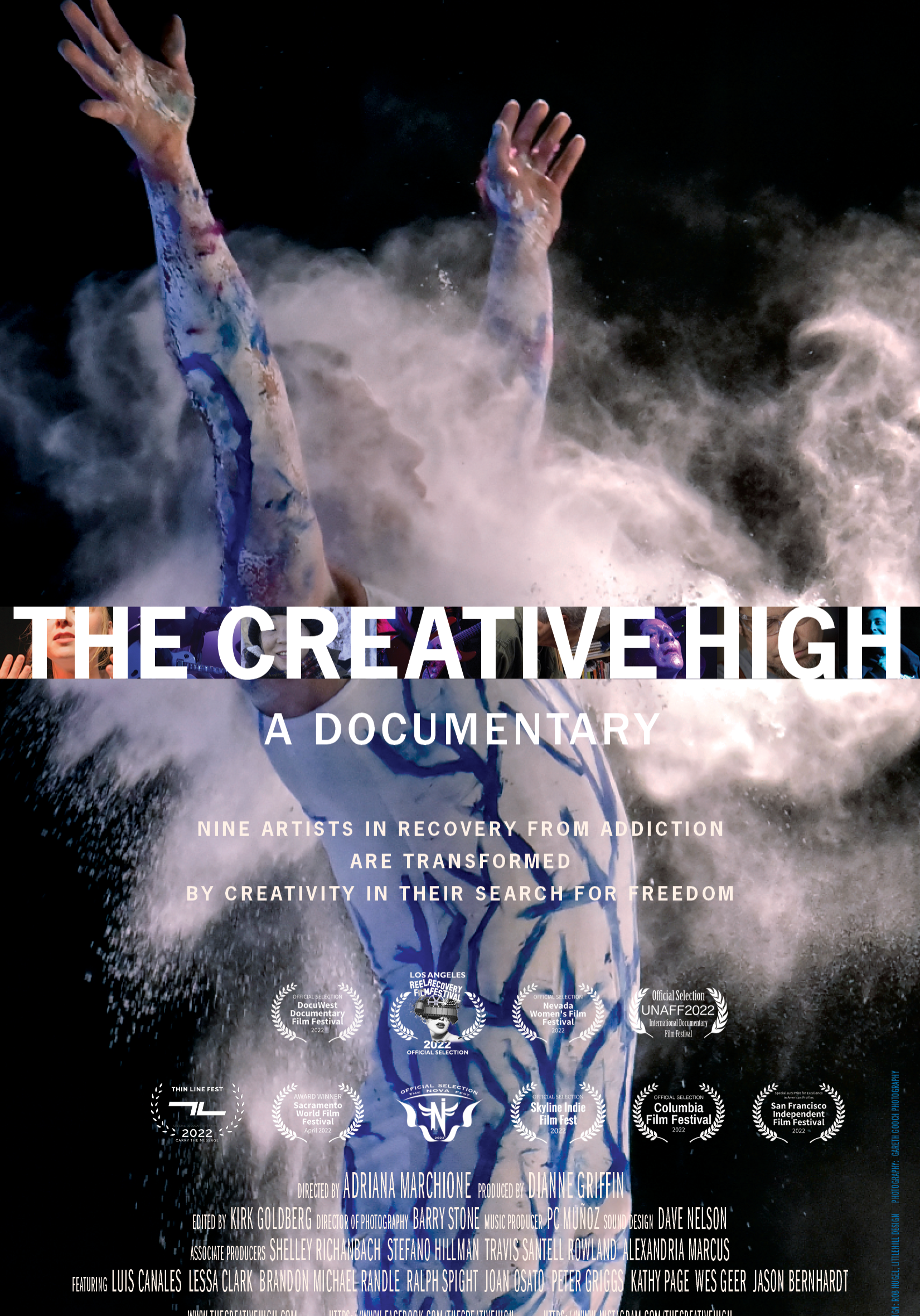 "A window into the souls of nine remarkable artists and a testament to the potential of the arts to transform the trauma at the root of addiction into powerful acts of creation."  — Armand Volkas, MFT, RDT/BCT, Drama Therapist, Theatre Director
"A compelling and inspiring collection of stories about the absolute magical healing powers of art and how the practice of self expression can and often is recovery. It's beautiful."  — Joshua Grannell (aka "Peaches Christ"), Drag Performer, Filmmaker, Actor
"As someone who has first-hand experience with healing and recovering from addiction through artistic expression, I was struck by how much the stories in The Creative High  resonated. The film succeeds in capturing the energy and dynamics of recovery and how creating art supports that journey."  — Erin Khar, author of 'Strung Out'
"The Creative High  offers a vivid, intimate reminder that dropping the shackles of our addiction frees us and fuels our art beyond what we could have imagined."  — Christopher Tait, Musician, Director of Passenger Recovery